I'm so excited to have a real mantel this year!  I decided to keep it simple with the decorations.  I put them up pretty early, and I don't want to be completely sick of them by the new year.
On the mantel itself, I kept the large photograph of my kids, and added some glittery gold reindeer and some gold candle sticks.  The 'BE MERRY' garland is simple but cute, and another way to add some sparkle!
On the cabinets on either side of the fireplace I collected some branches from my yard, and the kids and I made colourful paper ornaments that we saw on DesignSponge.  I love the way they fill in that space. 
We had a party on Friday night, so we added some twinkle lights, but they came crashing down half way through the night, so I guess I need some stronger command strips.
That's it!  Simple, but fun. 
I'm linking up to: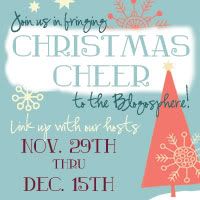 Mantel Party at Southern Hospitality